Newton Park Estate
Background
The Newton Park Estate is a Victorian Residential Development, in North Leeds, Yorkshire, UK. It has been a conservation area since the 1970's. It is now part of the Chapeltown Conservation area., in Potternewton. It is often called by residents and locals "St Mary's" as it is based around St Mary's Road but it is officially called The Newton Park Estate.
The Conservation report on the area states the following :
The Newton Park Estate is accessed through an imposing gateway with pedestrian entrances on each side which lends a feeling of exclusivity and formality to this estate. Places of worship punctuate the area,  (St Martin's Church and Union Chapel ) providing a variation of scale and architectural character.
Building form varies from detached and semi detached villas to elegant terraces, often standing side-by side. Architectural styles vary from typical late Victorian 'gothic' villa type properties, which can be seen in many other Leeds suburbs, to more individualistic Arts and Crafts designs. Sandstone is mixed in some cases with render and tile hanging. Natural materials to some footpaths and carriageways lend a sense of quality and help to unify the area. A high stone wall on Chapel Road and continuing north on the east side of Hall Lane and the short stretch of lower wall north of 315 Chapeltown Road (in front of St Martin's Church) are part of the boundary to Newton Park. This is of historical interest as well as helping to give the Newton Park Estate a distinct identity.
The Estate was also serviced with shops.
The Estate was given a highly original shopping arcade at nos 168 – 176 Chapeltown Road in 1890 by Archibald Neill. Less wild than his nearby Union Chapel but still bizarrely detailed, the first floor of the central pair of shops set back between each shop transmute above capitals to form tapering buttresses rising above the eaves. Two splendid carved lions perch above the shopfronts at each end. Coursed stone and mullions throughout. 
The Buildings of England. Yorkshire West Riding Leeds, Bradford and the North by Peter Leach and Nikolaus Pevsner 
History
The Newton Park Estate was built on the grounds of Newton hall and was conceived  in 1860's by the Lupton Family. Arthur Lupton (owner of Newton Hall) gives his two brothers Francis and Darnton Lupton a plot of land on the grounds of Newton Hall (family residence) to build homes for their heirs.
The Buildings of England. Yorkshire West Riding Leeds, Bradford and the North by Peter Leach and Nikolaus Pevsner
The Newton Park Estate was laid out by the Lupton Family of Newton hall (now dem.). It's lodge (1856) and gateposts survive on Chapeltown Road by St Martin's church, which was built for the new estate. Francis and Darnton Lupton first engaged George Corson to draw up plans for developing their estate at the beginning of the 1870's but building was only begun in 1879 to plans by Chorley and Connon (who also designed most of the houses).
They appointed the leading architect George Corson (who two years later would win a competition for the laying out of Roundhay Park) to produce a layout for an exclusive residential development on the site of a nursery and tea gardens in the south part of their estate, Newton Park, in Potternewton.  The Tea Gardens belonging to Newton Hall can be seen (in Red) on this map of 1842.
Darnton Lupton died and his two sons William Walter and Sydney take over with their Uncle Francis and set up the Newton Park Building Club. Corson's plan for unknown reasons was abandoned and in 1879 they employed Chorley and Connon to produce an over-all plan for the Newton Park Estate and design most of the houses (except for the terrace lower down which was designed by Smith and Tweedale)
This is the revised plan from Nov 1882 which was still not the final layout which says it is by Martin & Fenwick , 1 Park Place (chartered surveyors and valuers). It has lots of scribbles on it.

This map held in archive was unfortunately not dated though suspect after 1897. 
Newton Park Now 
The layout is geometrical. There is an imposing gateway on Chapeltown Road, which has the following notice.
Unfortunately nobody seems to take any notice and they all come park and drop litter,  though there are not so many hawkers, door to door salesmen seem to be a thing of the past. 
There are then pedestrian entrances to each side. This marks the beginning of the principal street, St Mary's Road which leads to the largest house on the estate Rocklands (this is now known as St Mary's House).
St Mary's Road
The principal street is St Mary's Road, a gated street south of St Martin's Church off Chapeltown Road. On the right No's 1-10, a terrace of 1894 by Smith and Tweedle, the houses with similar plans but varied facades whose attractive detailing includes half-timbered gables, paired windows with deep sashes, and shell like porches. 
The Buildings of England. Yorkshire West Riding Leeds, Bradford and the North by Peter Leach and Nikolaus Pevsner
St Mary's Road is a broad street with grass verges which are lined with trees. As you travel up on the right hand side there is a green. This used to be a tennis court for use of the residents but was subsequently turned into a green. People sit and have picnics in the summer and there are rope swings for the kids. We hold an annual community bbq on the green. 
It is then made up of Terraced houses to the North, they are all so different from each other with amazing architectural details such as giant shells above the doors.
St. Mary's Road looking towards Chapeltown Road
Oak Road / Oak Bank
Oak road bisects St Mary's Road.  The road was first called Oak Bank but when the terraces opposite the villas were built its name was changed to Oak Road.

Oak Road East Side
This was the last side to be developed (1901) and comprises of very large terraced houses. The houses are all constantly changing colour, recently we have turquoise, grey and yellow.
Oak road west side
Oak Road west is made up of earlier houses (1880s) either detached or semi-detached large villas built by the Newton Park Building Club and designed by Chorley and Connon. 
Oak Road West
Laurel Mount
Carrying up St Mary's road, Laurel Mount bisects the road to the North and South.
Virtually all the Nineteenth Century houses in Newton Park Estate have been attributed either to Chorley or to Chorley and Connon   according to Janet Douglas in Building a Great Victorian City – Leeds Architects and Architecture 1790-1914 
Chorley's stone terraces and semi-detached villas are pleasant…in terms of their design. However, there are four residences in the Domestic Revival style which are exceedingly striking. Penraevon on Laurel Mount is probably the best of these:built in stone in 1881 with a half timbered gable above an oriel window, leaded lights and a pretty timber porch. Eltonhurst and Oakfield (1885) on St Mary's Road, remain as spectacular as the illustration in the builder suggests:a cavalcade of fishscale tiling, half timbering and decorated plaster coving below large gables, with their roofs continuing as catslides to the ground floor and with wooden porched entrances to the sides. The largest house on the estate is the twin gabled Rockland of 1886, built for Francis Lupton with the same recipe of stone, render, hung tiles and tall brick chimneys
Rockland
Rockland, the home of Francis Martineau Lupton, (Great Great Grandfather of The Duchess of Cambridge) which is also part of the Newton Park Estate. To read more about the Lupton family this post has lots more detail. Rockland is now known as St Mary's House and is run by the NHS Leeds and York Trust
Eltonhurst and Oakfield
The illustration above is of the Semi detached houses Eltonhurst and Oakfield.  The illustration was published in The Builder  in 1881. It was designed by the same architects as Penraevon and at the same time by Chorley and Connon. (image from Archiseek). It looks very similar today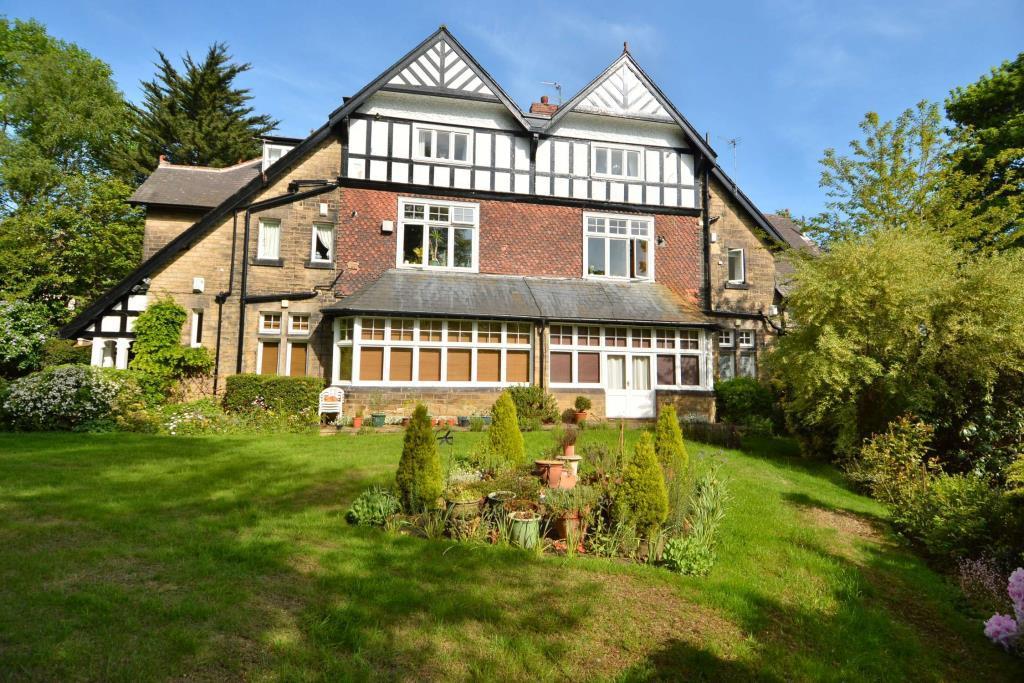 EltonHurst and Oakfield 2016
This map from 1920, taken from earlier deeds as it does not show all the houses which were built by then, was produced when Oakfield and the land to the North was put up for sale 8th Jan 1920.  
These two illustrations below were the original plans submitted to planning in 1895/6 which is four years after they first appeared in The Builder (see above) 
Penraevon
We are biased. this is our house and our blog! Obviously we think it is the prettiest house.  The original building plans for Penraevon were not kept unfortunately as they were revised six months later and the council only kept the revised plans. The amended plans are so delicate and of poor quality they have deteriorated. It is difficult to know how much has changed over the years (height of chimneys, railings on balcony) and what was changed prior to building (timber patterning and position of chimneys) 
The Buildings of England. Yorkshire West Riding Leeds, Bradford and the North by Peter Leach and Nikolaus Pevsner
The most attractive is Penraevon of 1881 in Laurel Mount. Again Domestic Revival but in stone, with a half timbered gable above an oriel window, leaded lights and a pretty timbered porch.
Oaklands
Also on Laurel Mount is Oaklands  a detached villa built 1906 ,
 lived in by the developer who built it,  until the 1920's and then it was the home of the Heaton family  The Heaton Family owned a large clothing Empire including the Heatona Building on North Street (now Crispin Lofts). 
It was sold in 1937 and became a boarding house for theatricals.
Rumour has it that Stewart Granger stayed here.
The Old Vicarage and Laurel Bank
Next is the semi-detached villas called The Old Vicarage – which was of course the Vicarage for St Martins Church, (though the vicarage was moved to closer to the church) it is now a family home and Laurel Bank which is flats.
Newton Park Mansions
In the 1920s, Newton Hall, the ancient residence of the Lupton family, which adjoined the northern boundary of the area, was demolished and the extensive grounds surrounding were built over to create the St Martin's. Around this time the two blocks of houses called Newton Park Mansions were built, in stone with slate roofs and shared gardens.
The mansions are split into two blocks one more on St Mary's Road is number 1-4 and the other on Laurel Mount are numbers 5-10 which as you can imagine confuses ALL delivery drivers and Taxis.
Back Laurel Mount 
All of the main streets have a back road too (Back St Mary's, Back Oak Road, Back Chapeltown Road) but only Back Laurel Mount has dwellings that are not on one of the main streets. Back Laurel Mount is home to The Stables and also at the end Rockland's Cottage (now called St Mary's Cottage).
The Stables
The Stables are, not surpisingly, converted Stables. It is a detached 2  bedroom house (3 if you lived in London ) with lovely surrounding gardens. 
 Rockland's Cottage now called St Mary's Cottage
This was until recently a clinic run by the NHS it was accessed through Hall Lane from the back. It is now going to be brought back to being a dwelling. It is an unusual horseshoe shape most probably as it was the Gardeners cottage and the two sides were used to store tools and supplies in.  
If you want to read more about the  general area – read this post  or if you would prefer to find out about who lived in the house