OH NO! What has happened to your wall?
My Sister-in -law was not impressed with our latest decorating project. Obviously it is not to everyone's taste but Penraevon is going through a distressed gold leaf interiors obsession.
So are you going to finish it or leave it like that?
Ha! it is finished, the distressed look is what we are going for it needs to look like decadent decay not 1980's bling however much of a fan of Versace you might be.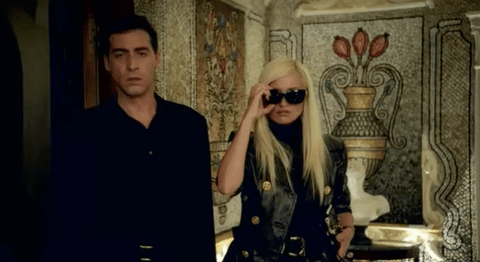 Confession time, it is not real gold. I did momentarily consider real gold leaf but the cost put me off. I thought I would try imitation gold leaf and the results were great. It is amazing
Where did this come from?
It started with a bit of wall but it is spreading everywhere.
The point of it was to break up the slab of black, and it flows over the window ledge.
I was delighted with the result. It spoke to me of aged distressed decadence. The inspiration to give it a go had come from a twitter account Kate Learmonth @the.kate.edit
Not long after Anna Hayman who designs the most beautiful prints for both fabric and wallpaper (really worth checking out as they are stunning) decided to go full gold leaf in her kitchen, with gold leaf worktops.
This led me to bland designs…
Once you start…
The thing is, as lots of people seem to be finding out, is that once you start you can't stop. Everything you see would look better with gold leaf , though I have held back from literally gilding the lily.
An ebay bargain of a Victorian dressing table mirror for £10, was given the silver/gold leaf treatment. The mirror was the perfect size and shape for the downstairs bathroom, but it's heavy polished mahogany was just a bit too much. This was a mix of imitation silver leaf warmed up with gold leaf to match the foxing of the old glass.
Gold Leaf lights
Ikea glass lampshades were given an upgrade with gold leaf. Three different lights were each given a slightly different treatment. LED lightbulbs give off so little heat that it means you can even gold leaf the lightbulb. The lightbulbs were a mixture of bulbs from Ikea and Clas Ohlson (who do very pretty bulbs at a fraction of the price elsewhere)
The spare bedroom had gold leaf the dining room lights were covered in gold leaf, the bathroom mirrors were gold leaf. Next for the gold leaf treatment were the stairs.
Gold leaf stairs
The hall stairs were beautiful being black but the carpet and the wall all seemed to be one dark block. it needed some interest. GOLD LEAF.
What photos don't show is that the gold reflects light so beautifully. For example, the hall is a dark space (yes I know it is black but it is also internal with no windows), the gold leaf manages to capture any natural light and reflect it around. The light is soft, captivating and feels natural like candlelight.
How to Gold leaf interiors
There are loads of great youtube tutorials out there some more diy others showing a skill and craft which is beyond my abilities.
You need
size which is a sort of glue and this sticks the gold leaf to the surface
Gold leaf – I use imitation gold leaf in transfer leaf booklets
Sealant – to stop the gold tarnishing from touch
tools – paint brush and old make up brush
Method
Draw the rough shape you want on the wall with pencil. Paint this space with size (paint no more than a square metre at a time) leave to dry for 30 minutes till tacky/sticky. Place a sheet of gold leaf on the wall and rub/brush gently on the back with a clean old make up brush. It is similar to letraset or those temporary tattoos. Peel off the backing tissue and admire your work. Keep repeating until you have the required effect.
As you can see this is part way through and you can clearly see the squares of the gold leaf transfer sheets. The darker colour is the size waiting for more gold leaf.
Once you have finished brush/burnish the surface with your make up brush. Gently where you want to move excess between the two sheets and more aggressively where you want to create a more distressed look.
Rub out the pencil mark and any other bits of size. Re touch with paint if necessary. The next day once you have decided you are happy with the effect paint on the sealant. The sealant will protect and seal the gold leaf.
Where to buy
All the products were bought from Gold leaf supplies online . They were good quality and arrived quickly. (In case you are concerned I bought all the gold leaf supplies myself, no freebies here) The booklets are so cheap at £1.80 a book. For example, I have probably got through about ten books to do all the different projects. To sum up gold leaf is such a fun thing to use in interiors and is not too costly to experiment with so give it a go.