How To get Kerb Appeal
Our house definitely lacked kerb appeal, but like an ugly duckling we could see it's potential. People supposedly decide on whether to buy a house within the first 8 seconds, they will tell the Estate agent after that it was out of their price range, or not in the right location but these are only excuses. They knew where it was, and the price before they saw it they just didn't like it when they saw it in reality. We probably chose to buy the house in the first 8 seconds,  we were looking for a challenge.
Many people are not looking for a challenge due to time or money, others lack the imagination to see it as it could be. Here are our ten top tips to improve your kerb appeal . This is a photo of our house when we bought it, and at the end of the article is a photo of how it looks now.
Here are our ten top tips.
1. Front Door. Paint your front door. It sounds simple but this is the first thing that people are going to look at. You could go wild with colour with a neon or cerise pink. But first look at what your house is built in. If it is rendered and white and you live in a sunny climate then a wild colour would look amazing, but if it is stone and it is rainy then it might not work. The right choice will help sell the house but the wrong colour…
Strong, colours in full gloss are ever popular, black blue by Farrow & Ball is a lovely serious colour. For a country look, matt, muted and washed-out colours are favoured in smart rural villages. We have opted for gloss black as we have a complicated porch, stained glass in rose , and other woodwork surrounding so wanted to keep it simple, but we might experiment with the door colour in the future.
2. Door Furniture. Invest in quality door furniture. We had to remove lots of office door furniture from our door and replace it with something more sophisticated. We added a brass escutcheon, filled in the letterbox (draughty and we have a post box at the gate) and chose a large brass door knocker from Anthropologie.
They now have a rather fetching pineapple available. But do check the size is right for your door.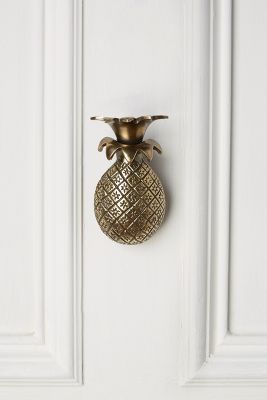 3. Lighting. Lighting is vital, placed either side of the front door to add symmetry, or a lantern in a porch entrance, If your property is approached via a garden, light it sensitively. Good garden lighting is unseen. Hide lights in the trees or conceal them in the garden path or drive. The world of led solar lights have transformed garden lighting. We have two motion sensor led solar lights which light up the garden gate and the path. The Porch is then lit with a Storm Lantern, wired in by an electrician.
4. Your Approach. The approach to the front door (steps, a path and/or a driveway), should be swept of leaves, and free from rubbish. Cars and bicycles neatly parked. Trees cut back to allow light in. We had giant Holly Trees which were in serious need of a trim. They blocked the view of the house and also blocked all the light into the house.
Before
After
Porches can give an air of distinction or they can be a distraction, they can be awful if they are stuck on as an afterthought – they must be in proportion. Ours needed lots of t.l.c the roof leaked and had been re felted so many times that the roof had been built up over time by over a foot. This was all stripped off and a new roof put back on. (read about it here – new roof)
5. Numbering or naming. Wonky numerals, badly painted names, or plaques with pictures do no justice to the front of a house. For houses with fanlights,  the number or name can be acid-etched into the glass. Or for an affordable alternative, number stickers from Brume.  Names can be wrought into gateways, or inscribed on brass or slate, and screwed to the gate post or porch. We got a local stonemason to carve the name back into our gate posts. The name had been there but had been removed when the house changed its name.
We also got the painters and decorators to remove all the old paint from where the name had been carved into the porch
6. Windows. Make sure your windows are clean they look sad when they are dirty, so make sure yours are cleaned regularly. Rotten window frames are also unacceptable and if you're putting in new ones, make sure they are appropriate with the design of the rest of the house. Our windows needed to have the security bars removed and where glass was missing returned back to leaded glass.
Before
After
Finally, all curtain linings and blinds should match when seen from the street or driveway. We chose Roman blinds lined with off white thermal lining.
7. Gardens and greenery However small the space is, add some greenery. You don't need a big garden to plant a creeper, and houses look beautiful with plants trailing up them . Landscaped beds with colourful planting and box hedges set off the front of a house; or for smaller spaces, such as either side of the front door, planters with box topiary. Remember though that some creepers are not good for brickwork as they can pull the mortar out of the pointing.
8. Gate. An impressive entrance gate is a must have for a house. But entrances should reflect the period of the house. We opted for a simple gate to match the railings.
9. Exterior Paint. Spruce up a tired façade by repainting, re-pointing, or rendering over ugly brickwork. Paint colours should be  in keeping with the period of the house (and the ones either side, if you live on a street).
Bear in mind the colour of the brick/stone work before choosing a colour to paint the outside of the house. We chose to change the colour from white to black as the white seemed to make the stone appear dirtier. This meant all the window frames and the ironwork.
This doesn't mean to say that they have to be the same colour, our previous house was on a terrace and the different colours made the houses. Check out our neighbours on Oak Road, these houses have great kerb appeal.
10. Rubbish. Try to conceal rubbish bins behind a hedge or a small fence. If you have to have them on show, make sure they are clean and the lids are on. Don't let the house next door ruin your kerb appeal. If your neighbours have rubbish outside their house, suggest you remove it, or ring the council. And if you're trimming your hedge, ask if you can do theirs while you're at it – 10 minutes mowing, or rubbish collecting is worth the effort.
So how have we done?
Does it have Kerb Appeal?
Look back on how it has changed.
After