Chapel Allerton Chapeltown
What is the Cultural difference between Chapel Allerton and Chapeltown?
If a loiner (person from Leeds) was asked to describe these two places this is what they would probably say.
Chapel Allerton;  an area of affluence,  full of restaurants and bars, a bit up its self, a place where lawyers, accountants and Yummy Mummies live. Hipsters with coffee shops, fishmongers, semi detached housing , grocery shops, toy shops, yoga studios. The Knightsbridge of the North is how the estate agents used to market it. It was recently declared one of the best places to live in the North by Sunday Times Newspaper in 2014 and 2018.
Chapeltown;  an area of  poverty , immigration, drugs and crime  (a lot of that reputation dates back over thirty years to the 80's and the riots and is a stigma on the area). It is also an area full of artists, radicals, hippies, co-op's, large parks, carnivals, beautiful Victorian and Georgian Villas and bohemians.
Say Potternewton and people don't really know where you are talking about.
Background and History of Chapeltown and Chapel Allerton
Chapel Allerton and Chapeltown are two areas of North Leeds both contained within the Ls7 postcode.
The name Chapeltown is a shortened name for Chapel Allerton and described the area on the hill with clean air. Previously there was no separation of the two areas. There were only a few houses when this map was drawn (1858) but within 30 years there were tens of thousands of houses in the area of Chapel Allerton or Chapel Town.  By the 1960's the areas had become distinct from each other.

Ordnance Survey Map 1858
Chapeltown was developed first and has large Georgian terraces, very large Victorian Villas and semi detached villas. Later it was filled in with high quality large Victorian terrace houses until it was later completed with smaller Victorian terraces, there is very little Twentieth Century building in Chapeltown. Chapel Allerton was primarily developed later than Chapeltown and comprises of smaller Victorian and Edwardian terraced housing, and larger 1920's onwards semi-detached housing.
When our house was built in the 1880's there were four main areas in North East Leeds.
Chapel Allerton / Chapel Town
Potter Newton – a very large old important area (Kirkstall Abbey had tiles made in Potter Newton. Potternewton  got its name as it was where all the potteries were)
Buslingthorpe –  where all the mills and tanneries were. It is now comprised of the Sheepscar interchange, bottom of Chapeltown, and Meanwood Road. Nobody lives there as it is all dual carriageway roads and modern industrial units
Bentley – the name for most of what we now call Meanwood (Meanwood is split between two postcodes LS6 and LS7)
None of these areas have retained their names with the passion of Chapel Allerton or Chapeltown. They all make up the postcode LS7.
Is Chapel Allerton on the march? Is Chapeltown as bad as its reputation ? Has Potternewton disappeared?
Chapel Allerton has been on the move, getting bigger and bigger. When we first moved into the area in 2000, any houses below Chapel Allerton Primary School were not in "proper Chapel Allerton" they were in Potternewton.  Since then houses have been developed at Mansion Gate on Harehills Lane and have always been described as being in Chapel Allerton. We have friends who live in the Roxholme's who call it Chapel Allerton (see map at top). Chapeltown is shrinking, Potternewton has disappeared  and Chapel Allerton is consuming it all. Most people would rather live in Chapel Allerton it seems.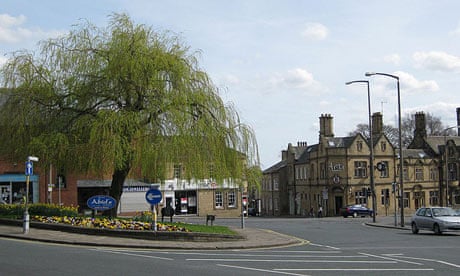 The history and growth of Leeds
Workers flocked to Leeds in the Georgian period, first from the countryside but then as Leeds economic strength grew in the Textile trade both in tannery's, fabric making, and of course tailoring (Burtons, Marks and Spencer) more people were required. To help keep the factories going Immigrants from Eastern Europe escaping the Pograms in Russia (1880 onwards) fled to UK many on their way to find a better life in America. They were persuaded to come to Leeds (the Promised land delivered as the sign in Leeds train station used to announce) where they were put to work in sweatshops
'Sweating Song', 1888
Lyrics of a song written by Tom Maguire, a poet, trade union activist and socialist, "on the occasion of the strike of Jewish tailors at Leeds". It calls for united action to defeat the "sweaters" who employ immigrant labour for low wages in "sweating dens" (these would now be called sweatshops). Maguire was born in Leeds, the son of Irish immigrants, and died of pneumonia at the young age of 29. This one penny songsheet was published in East London by the radical Yiddish language newspaper 'Workers' Friend', and includes versions of the song in both English and Yiddish.
By first World War many of the Jewish families had moved into the better houses of Chapeltown and the Synagogue was built. India was reknowned for its beautiful textiles so to  further help the textile trade Sikhs were encouraged to migrate to show their skill in textiles and move to leeds .The first Gudwara was in Chapeltown . This was shortly followed by the Windrush Carribean community, Leeds has been built on the sweat of strangers and Chapeltown has always welcomed them.
Where would you rather live?
We used to live in the centre of Chapel Allerton, near the Regent Pub . We love Chapel Allerton. It has great bars, (further North, Mustard Pot, The Woods, Seven) shops (Chirpy, Pout, George and Joseph, Tarbetts fishmongers) and cafe/restaurants (opposite cafe, crust and crumb, pinche pinche, sukhothai, Nichols Vegetarian Deli, House of Koko, boss burgers ). And it has a great Arts festival Chapel Allerton Festival . But the success has also started to bring in the large chains, the independent nature is always being threatened to be overtaken with  Costa Coffee, Starbucks, Paddy Power, William Hill and Aldi
We also love Chapeltown. There is not a chain shop insight the whole place is a thriving enterprise of local independents. As a child, my dad used to take me on a Sunday to the Jewish Bakery to get fresh bread and bagels.
Later it was for the carnival and Reggae festival. Then as I got older I would go to the Blues clubs, Roots (also known as Cosmo's or The Pheonix) and the West Indian Centre. Now I go to shop at Continental stores for the dried pulses, fresh herbs, spices and hard to find ingredients (they also sell a lot of hair extensions). I highly recommend the Dutch Pot,  A1 Beauty on Newton Parade (OMG £2 to get my eyebrows threaded without appointment). There is also the Chapeltown Arts festival (not as big as the Chapel Allerton Arts festival which is not as big as the Chapeltown carnival).  The photo at the top of the page is one we took at the Chapeltown Carnival in 2012. There is also the Northern School of Contemporary Dance, Leeds Media Centre, East Street Arts Union 105 studios and Bauman Lyons Architects. Every shop in Chapeltown is independent, and it has benefited recently from a large heritage grant .
So where do we live?
Historically and according to the Royal Mail it is Potternewton. According to the electoral ward it is Chapel Allerton. According to the conservation zone it is Chapeltown*. According to our deeds we are Newton Park.
* I have since discovered, from the planning and conservation officer, that the conservation zone was named Newton Park, Potternewton. However, when they wanted to protect some buildings in Chapeltown, the easiest way to do this for paperwork was to extend an existing conservation zone, so for the sake of bureaucracy we we were moved and renamed.
Most old locals would say Chapel Allerton is  North of us, up the hill on Harrogate Road and Chapeltown is further South to us after Harehills Avenue. So what do we call it? Is the Chapel Allerton Hospital really in Chapeltown?
When we first went to see Penraevon it was described by the estate agent as being in Lower Chapel Allerton. Maybe we should say we live in Far Chapeltown? or Lower Chapel Allerton?
We live in Potternewton!
The more I have got involved with the locality I can absolutely say it is Potternewton. Only problem is that nobody has heard of Potternewton despite it being a very old area of Leeds. There is Potternewton Park , but that is in Chapeltown. There is Potternewton Lane, but that is in Chapel Allerton. We live in the bit in-between. We live on the old parkland grounds of Newton Hall of Potternewton. Newton Hall developed the Newton Hall Estate, this first consisted of the Newton Park Estate development but carried on in the 1920'3 and 30's to create the St Martin's and Riviera Gardens. Newton Hall no longer exists, but evidence still exists in street names Newton Terrace, Newton Lodge Drive and  the lodge gateposts are at the bottom of our road as is the lodge house. Newton Park Estate, Potternewton in the ward of Chapel Allerton, North Leeds, West Yorkshire.