Chapel Allerton Chapeltown
The name Chapeltown is a shortened name for Chapel Allerton and described the area on the hill with clean air. There was previously no separation of the two areas. There were few houses when this map was drawn but within 30years there were 10s of thousands the area of Chapel Allerton Chapeltown extended they were still seen as the same area.  By the 1960's they had both very distinct identities.
Potter Newton was a large important area (Kirkstall Abbey had tiles made in Potter Newton , as the area got its name as it was where all the potteries were) Buslingthorpe was another important area and is now comprised of the sheepscar interchange and bottom Chapeltown, and Bentley was the name for most of what we now call Meanwood. None of these areas have retained their names with the passion of Chapeltown and Chapel Allerton (or Meanwood)

Ordnance Survey Map 1858
What is the difference between Chapel Allerton and Chapeltown?
Say Chapel Allerton and many people think, of an area of affluence,  full of restaurants and bars, a bit up its self, a place where lawyers, accountants and Yummy Mummies live. Hipsters with coffee shops, fishmongers, semi detached housing , grocery shops, toy shops, yoga studios. The Knightsbridge of the North is how the estate agents used to market it.
Say Chapeltown to many people and they think of an area of deprivation, immigration, drugs, prostitution, and crime  (that reputation dates back thirty years to the 80's and the riots). It as an area full of artists, radicals, hippies, co-op's, Parks, beautiful Victorian and Georgian Villas and bohemians.
Say Potternewton and people don't really know where you are talking about.
Is Chapel Allerton on the march? Is Chapeltown a stigma? Has Potternewton dissapeared?
Where would you rather live?
Chapel Allerton has been on the move, getting bigger and bigger. When we first moved into the area in 2000, any houses below Chapel Allerton Primary School were not in "proper Chapel Allerton".  Since then houses have been developed at Mansion Gate on Harehills Lane and have always been described as being in Chapel Allerton. We have friends who live in the Roxholme's who call it Chapel Allerton (see map at top). Chapeltown is shrinking and Chapel Allerton is consuming it. Most people would rather live in Chapel Allerton it seems.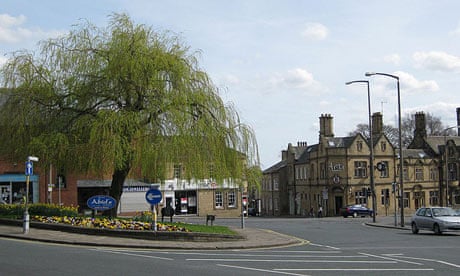 We used to live in Chapel Allerton (proper), near the Regent Pub . We love Chapel Allerton. It has great bars, (further North, Mustard Pot, The Woods, Seven) shops (Chirpy, Pout, George and Joseph, Tarbetts fishmongers) and cafe/restaurants (opposite cafe, crust and crumb, pinche pinche, sukhothai, Nichols Vegetarian Deli, House of Koko, boss burgers ).
We have also always loved Chapeltown. As a child, my dad used to take me on a Sunday to the Jewish Bakery to get fresh bread and bagels.
Later it was for the carnival and Reggae festival. Then as I got older I would go to the Blues clubs, Roots (also known as Cosmo's or The Pheonix) and the West Indian Centre. Now I go to shop at Continental stores for the dried pulses, fresh herbs, spices and hard to find ingredients (they also sell a lot of hair extensions). I highly recommend the dutch Pot,  A1 Beauty on Newton Parade (OMG £2 to get my eyebrows threaded without appointment). There is also the Chapeltown Arts festival (not as big as the Chapel Allerton Arts festival which is not as big as the Chapeltown carnival).  The photo at the top of the page is one we took at the Chapeltown Carnival in 2012. There is also the Northern School of Contemporary Dance, Leeds Media Centre, East Street Arts Union 105 studios and Bauman Lyons Architects.
The biggest difference we have noticed living here is how varied life is compared to Chapel Allerton. We often have the road closed so a Sikh groom can ride his white horse down the road (I am waiting for an Elephant). Then the annual celebration of the festival Vaisakhi, which starts at the bottom of our road and parades into town (see video) . The church at the bottom of the road (St Martin's)  had a large "New Orleans" style funeral party (our local Undertakers Hugh Gooding specialises in New Orleans funerals) and every year the road is closed for the Carnival.
I feel a fraud claiming I live in either. It is not "proper" Chapel Allerton or "proper" Chapeltown, but wherever it is we love it!
So where do we live?
Historically and according to the Royal Mail it is Potternewton. According to the electoral ward it is Chapel Allerton. According to the conservation zone it is Chapeltown*. According to our deeds we are Newton Park.
* I have since discovered, from the planning and conservation officer, that the conservation zone was named Newton Park, Potternewton. However, when they wanted to protect some buildings in Chapeltown the easiest way to do this for paperwork was to extend an existing conservation zone, so for the sake of bureaucracy we we were moved and renamed.
Most old locals would say Potternewton is to the West of us by Scott hall Road (if they knew where it was at all), Chapel Allerton is  North of us, up the hill on Harrogate Road and Chapeltown is further South to us after Harehills Avenue. So what do we call it? Is the Chapel Allerton Hospital really in Chapeltown?
When we first went to see Penraevon it was described by the estate agent as being in Lower Chapel Allerton. Maybe we should say we live in Far Chapeltown? or Lower Chapel Allerton?
We live in Potternewton!
The more I have got involved with the locality I can absolutely say it is Potternewton. Only problem is that nobody has heard of Potternewton despite it being a very old area of Leeds. There is Potternewton Park , but that is in Chapeltown. There is Potternewton Lane, but that is is in Chapel Allerton. We live in the bit in-between. We live on the old parkland grounds of Newton Hall of Potternewton. Newton Hall no longer exists (but the lodge gateposts are at the bottom of our road) and neither does Potternewton Hall. Newton Park Estate in Potternewton.